Home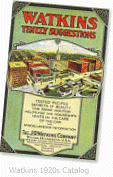 Since 1868, Watkins has provided quality products, created from the world's finest herbs, botanical and natural ingredients.
Today the tradition continues with earth-friendly household products, cutting-edge dietary supplements, all natural gourmet seasonings, and personal care products that utilize herbs rather than harsh chemicals.



When you click Online Ordering, your browser will open a new window and take you to the Watkins Order Entry Site.
If you prefer, you can browse online for item numbers, then use my Associate ID #099046n when you call Watkins toll-free.

---

Watkins Independent Associate #099046N



Online Ordering: Watkins Online Catalog



E-mail: Jacquelyn Cooper

© 1996 - 2015, Jacquelyn Cooper. All rights reserved.

Watkins® Logo is a registered trademark of Watkins Incorporated.
Watkins, Inc.
150 Liberty Street
Winona, MN 55987-0570